Horses of a lifetime usually aren't the easy ones. They challenge you, they make you question your ability, your knowledge, your level of confidence.They know how to put you through many tests, and they are usually professional humblers. For Chase Hickok, that description fits her dancing partner, Sagacious HF, to a tee.
Born in the Netherlands in 1999, the Dutch Warmblood gelding, bred by G.Van de Boogaard (Welt Hit II x Judith x Olympic Cocktail), was purchased by Al Guden, Toine Hoefs, and Kathy Connelly and re-located to the United States in 2004. The gelding, now owned by just Guden and his Hyperion Farm Inc., has had an impressive career over the past eighteen years and has taken many riders up the levels and into the international limelight. Some of his most notable rides include his qualification for Gladstone in 2007 with Lauren Sammis, where he won the Prix St.Georges, was reserve champion in the Intermediaire I test, and was welcomed onto the Pan-Am Games Team. The pair went on to represent the United States at the 2007 Rio De Janeiro Pan-Am Games, earning a Team Gold medal, and Individual Silver medal.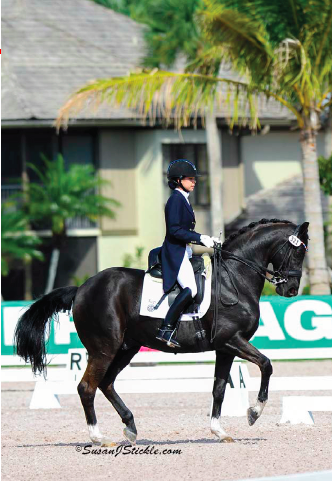 In 2013, the gelding took Caroline Roffman to Aachen, where the duo became the first American pair to ride in a U-25 competition at the venue, earning a reserve champion finish in the U-25 Grand Prix and U-25 Grand Prix Freestyle.In 2014, Sagacious was leased to Chase Hickok, where they began their partnership in the U-25 division.From there, the two went on to win an impressive 10 CDI U-25 Classes in a row, in 2014 alone.
"It wasn't the easiest relationship to begin with," explained Hickok. "He really put me through my paces. It took a while to build his trust and for us to form a bond.That has been the most rewarding part of these four years, is having that experience, taking a horse that can be tricky and creating that relationship. For me, the biggest compliment that I receive is when people tell me that he really does seem happy and seems to be enjoying his job."
A talented horse no doubt, Hickok's relationship with "Kitty" thrived after she passed all of his tests. She continued, "He's taught me so many lessons. He's such a good example of a horse that has been around the block so many times and is so well known, that I think a lot of people anticipate that a horse like that is just sort of point and shoot, and he's really not. Like all horses, he has his own opinions, and for me that was humbling. To get on and have those challenges, it taught me the value of a relationship built on respect that has been earned. He rewards you because he is so generous and is such an amazing teacher. He's gotten five people their gold medals, but he didn't have to. His willingness knows no bounds. He makes you work for it and want it, and hold yourself to a higher standard."
After a successful U-25 campaign, the two entered the arena in the Open division together for the first time during the 2017 winter season, and began their first Open European Tour this past summer. "I attended my first Nations Cup™ with him this summer in Europe as an Open rider," saidHickok. "We were the highest placing American combination on both of the teams that we competed on. We got to do the Freestyle in Falsterbo and ended up finishing in second place behind Patrick Kittel. We'll take that!
At Hickstead we were second in the Grand Prix and third in the Grand Prix Special, so I was very happy with the placings. It was nice to go over with a few more years of experience under our belts, and with our relationship being that much better as well.We felt a huge improvement from the last time that we were over there so it was an honor to go, and was very rewarding."
Back at the barn, Kitty is as opinionated on the ground as he is under saddle. Not being one to embrace the element of surprise, the gelding has a routine and is privy to sticking to it. Hickok elaborated, "He's not a morning horse. He likes his beauty rest. In the mornings he will go on the treadmill if one is available, if not, he gets hand walked. He gets out at least twice a day, that's very important.We then ride, usually around lunch time, that's his preferred hour, so he can have his afternoon siesta before dinner."
According toHickok, those that have been accepted into the gelding's "inner circle" know that it's his barn, and they're just riding in it. "He's a funny guy," she said. "He's quirky, and he's very serious about a lot of things. He's been around the world a few times, so he kind of knows the drill. One of his favorite things is when you're bridling him, it takes seven or eight tries to do the curb chain, because every time, he shakes his head at the perfect moment."
ForHickok, the support from owner Al Guden and his wife, Andrea, means everything. "Al is the first owner that I've ever ridden for, and I honestly think that he is the dream owner. His faith in my partnership with this horse has been wonderful to have. This has been such a cool story to be a part of, and it is going to be a great year."
With another year of experience under her belt, and with the opinionated gelding on her team, there is no doubt that 2018 will be a memorable year for Hickok and Sagacious HF.
 This piece was originally featured in the 2018 AGDF Souvenir Program. Photos courtesy of Sue Stickle.