Did you miss the freestyle action Friday night? We hope not, but just in case… We've got you covered with some fast freestyle forensics straight from the top riders themselves!
This week, we watched as Laura Graves and Verdades rode their victory lap in the FEI Grand Prix CDI5* Freestyle presented by CaptiveOne Advisors™, earning their fourth win in a row at the 2018 Adequan® Global Dressage Festival.
Graves and "Diddy" bested the pack of seven 5* competitors, dancing to a score of 84.375% with a new freestyle routine.
Watch Laura and Diddy's Freestyle HERE! 
"Tonight was our first run through of the new canter tour for my freestyle," commented Graves, who is currently ranked at number four in the world on the FEI Dressage Rankings list.
"Though we are not using the FEI floorplan freestyle creator tonight or in the World Cup qualifiers, it is a big part of my preparation for Paris, as it will be used in the Final. I'm actually taking away the risk of putting the changes on the curved line, which  doesn't gain us as many points as doubling up on our pirouettes- it ended up being a little bit of a math equation."
Graves continued, "A big 'thank you' to Terry Gallo who always steps in when I have a last minute 'great idea.'  I couldn't do it without her! I'm super pleased with how the music turned out, it was incredible to ride. A couple of little tweaks to work and change for our next performance but I'm happy with the decision.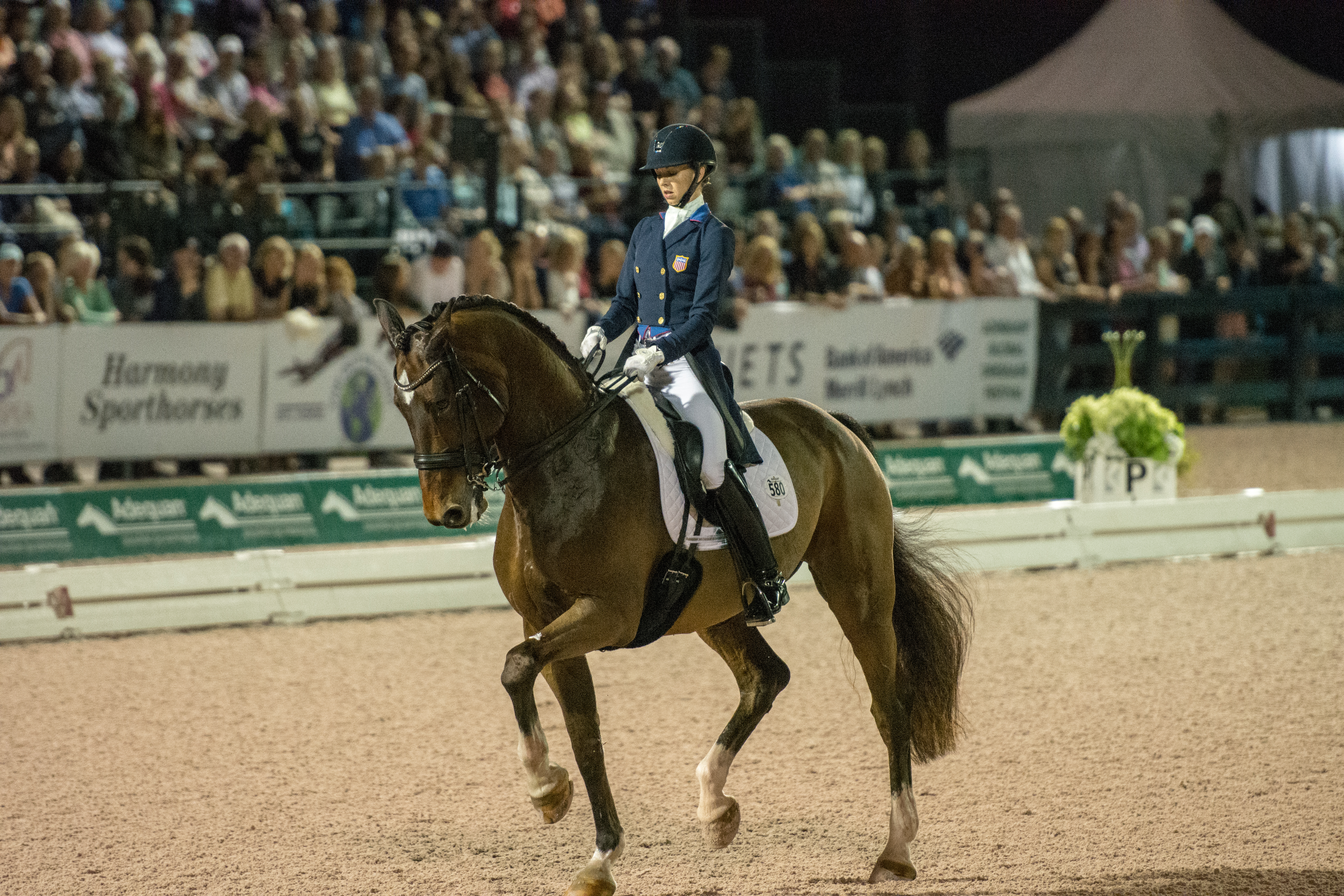 I was very pleased with the run-through of the new plan. I had only actually ridden it one time at home and that was only for Terry to get the timing. I don't practice my freestyles a lot, I love to preform them but hate to practice them, so that may be where I need to do my homework a little bit."
Graves also noted Diddy's performance, and exclaimed  "Diddy felt quite on point with all of my riding, of course he didn't know where we were going this time!"
AGDF 5 FEI Grand Prix Freestyle CDI 3*, presented by Wellington Equestrian Realty

Earlier in the evening, Yvonne Losos de Muñiz (DOM) and Foco Loco W pranced to victory after a stunning freestyle performance in the FEI Grand Prix Freestyle CDI 3* presented by Wellington Equestrian Realty.
The pair earned a freestyle score of 74.35%, just a day after their victory in the FEI Grand Prix CDI 3* presented by Wellington Equestrian Realty.
Losos de Muñiz and the13-year-old Belgian warmblood gelding rode to a freestyle composed by Canadian, Karen Robinson. She stated, "It was really nice tonight because the weather was great and I was able to hit the trot queues and everything. It was amazing, he just came up and I said 'ok, here we go', he floated around and felt fabulous."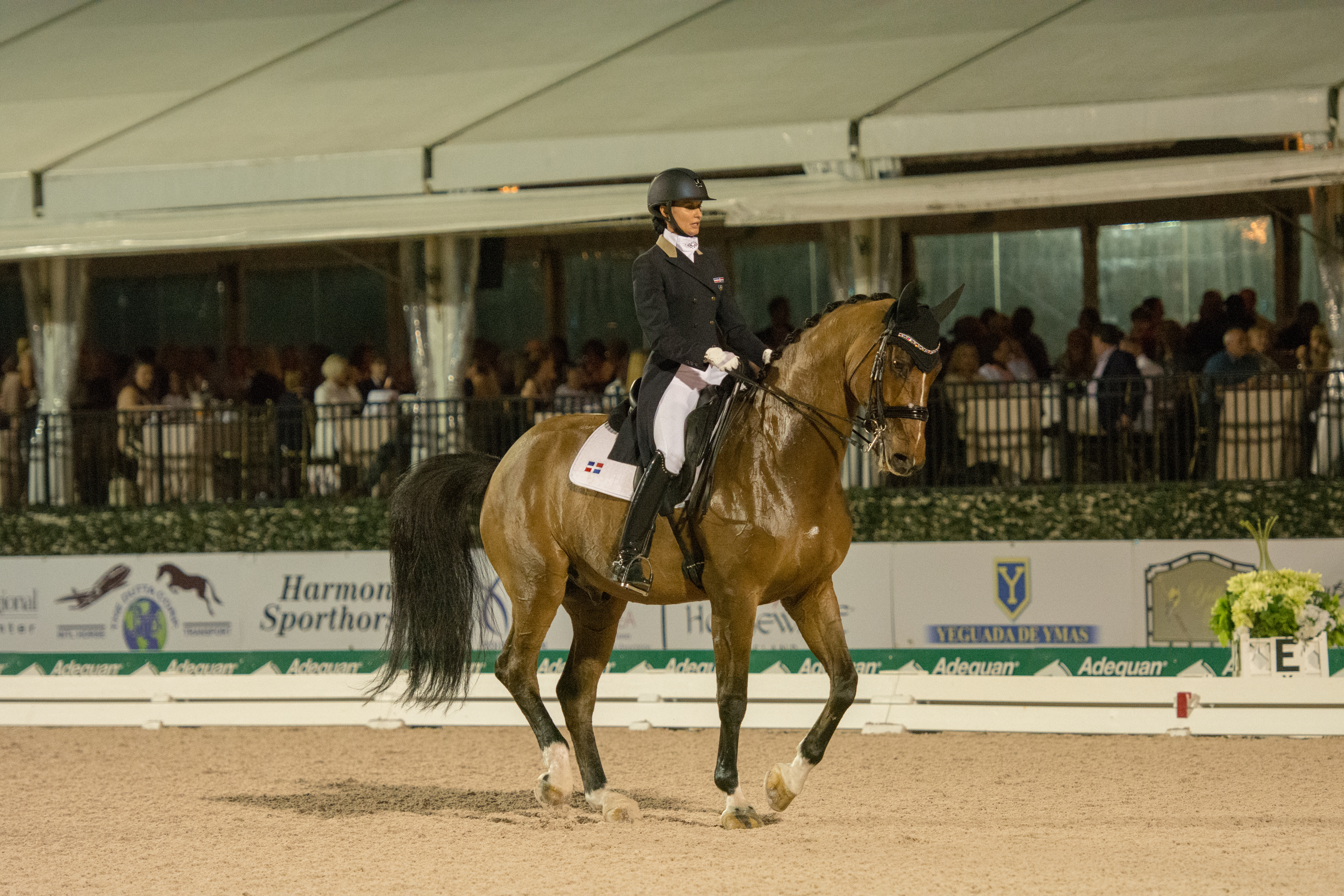 Of her powerful music, Losos de Muñiz concluded: "The music is a bit different, when some people hear it for the first time they go 'wow! That's really strong.' But he's so big. Karen said to me- 'do it. He can carry the music with no problem.' So we just go for it!"
Be sure to join us for the next Friday Night Stars competition on February 23, to watch more horses and riders dance under the lights in Equestrian Village.