Say hello to a new face at #AGDF2020, Sarah Lockman! Sarah recently made headlines when she scored an individual gold medal at the 2019 Pan American Games. Along with competing, Sarah also trains top-level dressage horses. Continue reading to learn about why Sarah decided to travel from California to compete at AGDF 2020, the string of horses she brought with her, her goals for 2020, and more!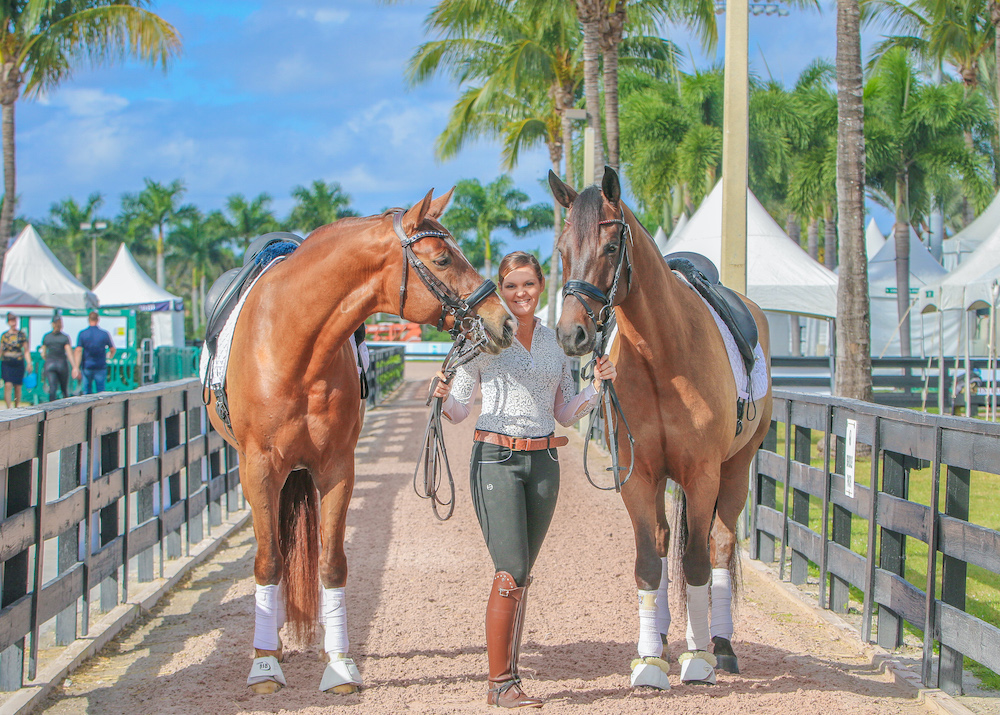 Photo courtesy of ESP
What made you decide to join us at AGDF this season?
There were a couple of factors that made us come out here. One is I have my horse, First Apple, that we're campaigning. He's a younger horse and this is his first season out doing Grand Prix classes, and Global offers a lot of options that the west coast doesn't. With him being a younger horse, it's great because he doesn't have to be ready on the one weekend when there's a CDI show or a qualifier. We can pick and choose what's best for him. It's the same for all my other horses; I brought my whole string, so I have a brand new three-year-old and a couple of developing horses that I'll be doing the Developing Prix St. George with and the Summit Challenge. The options of showing are great. The other thing that's invaluable is the training. I'm training one-on-one with Scott Hassler, Debbie McDonald, and Charlotte Bradhal. They're so available here as opposed to having to wait for a clinic or do video lessons.
Gerry Ibanez, who was our founder, owner and sponsor passed away in November. He was so excited about being here, having a table, and being involved with the sport to such an extent. Although he's no longer with us, the rest of his family came out and watched this past weekend. It was their first time seeing such a big horseshow besides the Pan American Games, and they were so excited to be involved. Now, we say that every ride will be a ride for Gerry and we're excited for him to be here in spirit.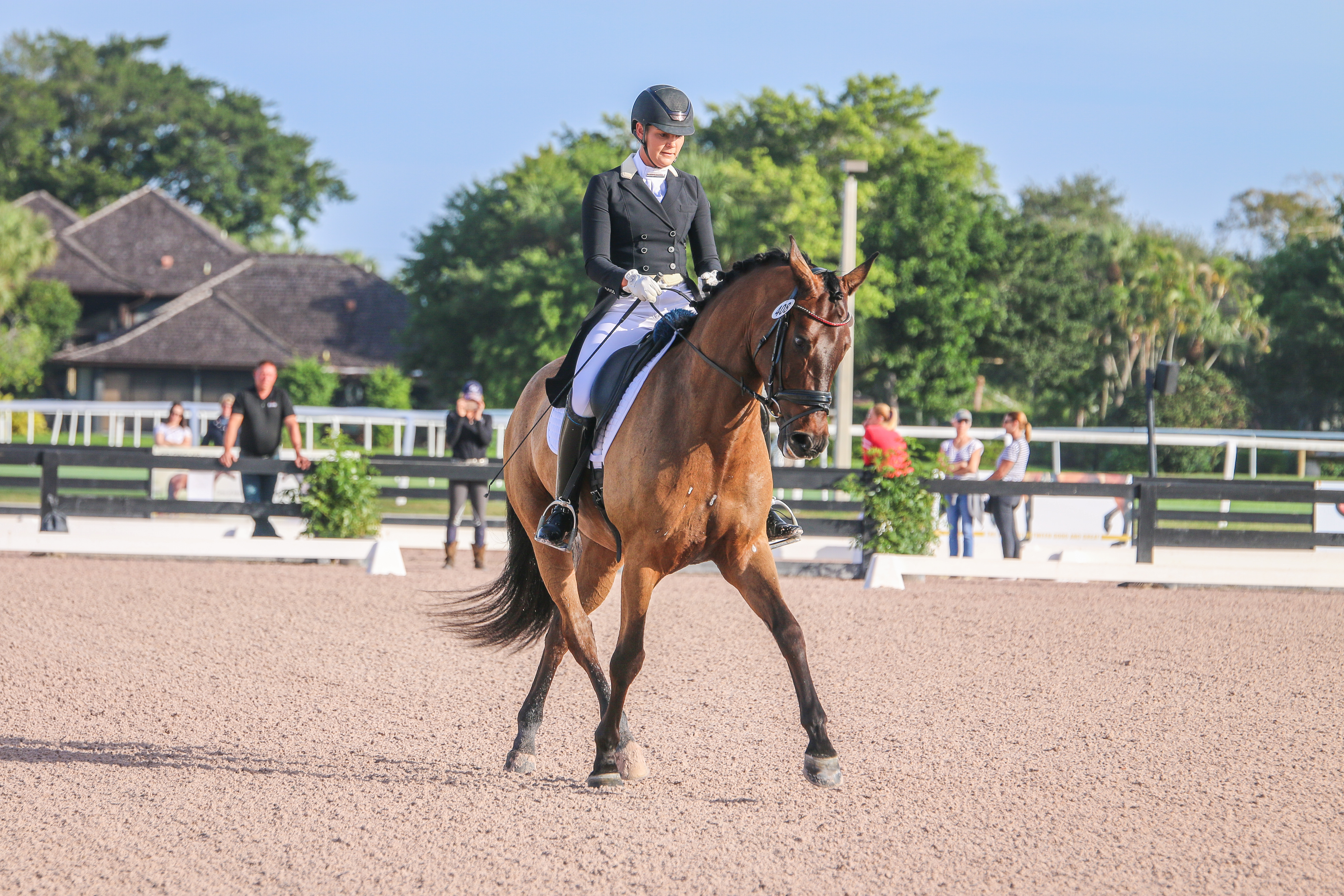 Photo courtesy of ESP
How have you enjoyed being here so far?
The whole culture here is very exciting. I watched my first Friday night under lights last weekend and it was pouring rain, but there was still a stand full of people and dressage enthusiasts with their raincoats and umbrella. I mean, the place was full and it was the first weekend! That's something we don't have in California: Such huge support from the whole equestrian community. And then there are just simple things like not being the only person in Starbucks wearing breeches. It's just such a horse community here. It's also nice having our barn so close to the show because it really allows you to be fully immersed in the sport.
Tell us about your horses!
One of the things that I've done since the beginning of my career and am very proud of is that I focus on developing horses. I'm so lucky to have First Apple who's already an FEI horse. We're grooming him to hopefully be an international Grand Prix horse, but the other horses I have are younger. One of Summit Farms' most recent purchases is a four-year-old, and then I have a seven and eight-year-old. It's really important for me and for us at Summit Farm to be bringing along the future. I feel very fortunate that we've found so many nice horses that will be coming along, and it's exciting to have so many at such different levels. I believe the future of our country is to have the young horses and the developing horses up-and-coming; I think that's how we're going to have the best horses in the future. USEF and our U.S. Coaches have done such a good job of encouraging that program, and that's one of the reasons that Summit Farm has sponsored the Summit Farm Challenge. We believe very strongly in developing the young horses and bringing strength to our country by developing those young horses ourselves.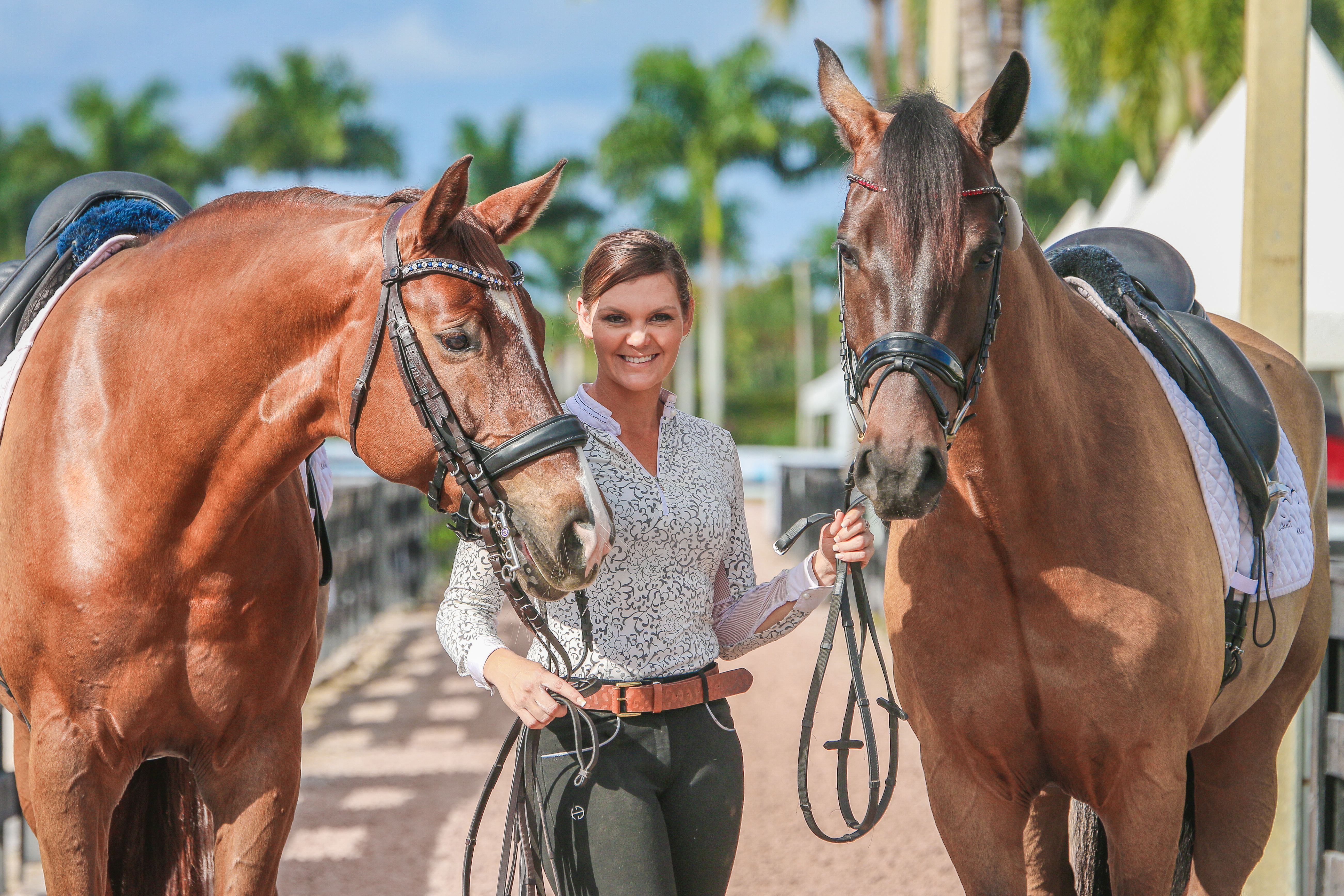 Photo courtesy of ESP
What are you looking forward to most about competing at AGDF?
I had a little taste of it a few weeks ago. I was back in the national rings, but it was still a bucket list item to trot down the centerline at Global. I can't wait to get in this big stadium and have a crowd. I think that's so exciting! My horses and I, especially Apple, love that kind of atmosphere, so I think that'll be another career-high for me.
What are your goals for the season?
Our focus is on First Apple and getting him out in the Grand Prix ring and the CDI at the big tour, and just seeing where that takes us. I just want to develop him and give my other horses a really good season of showing in this atmosphere. Since it's so convenient, they'll be able to get a lot of miles really quickly without the stress of traveling.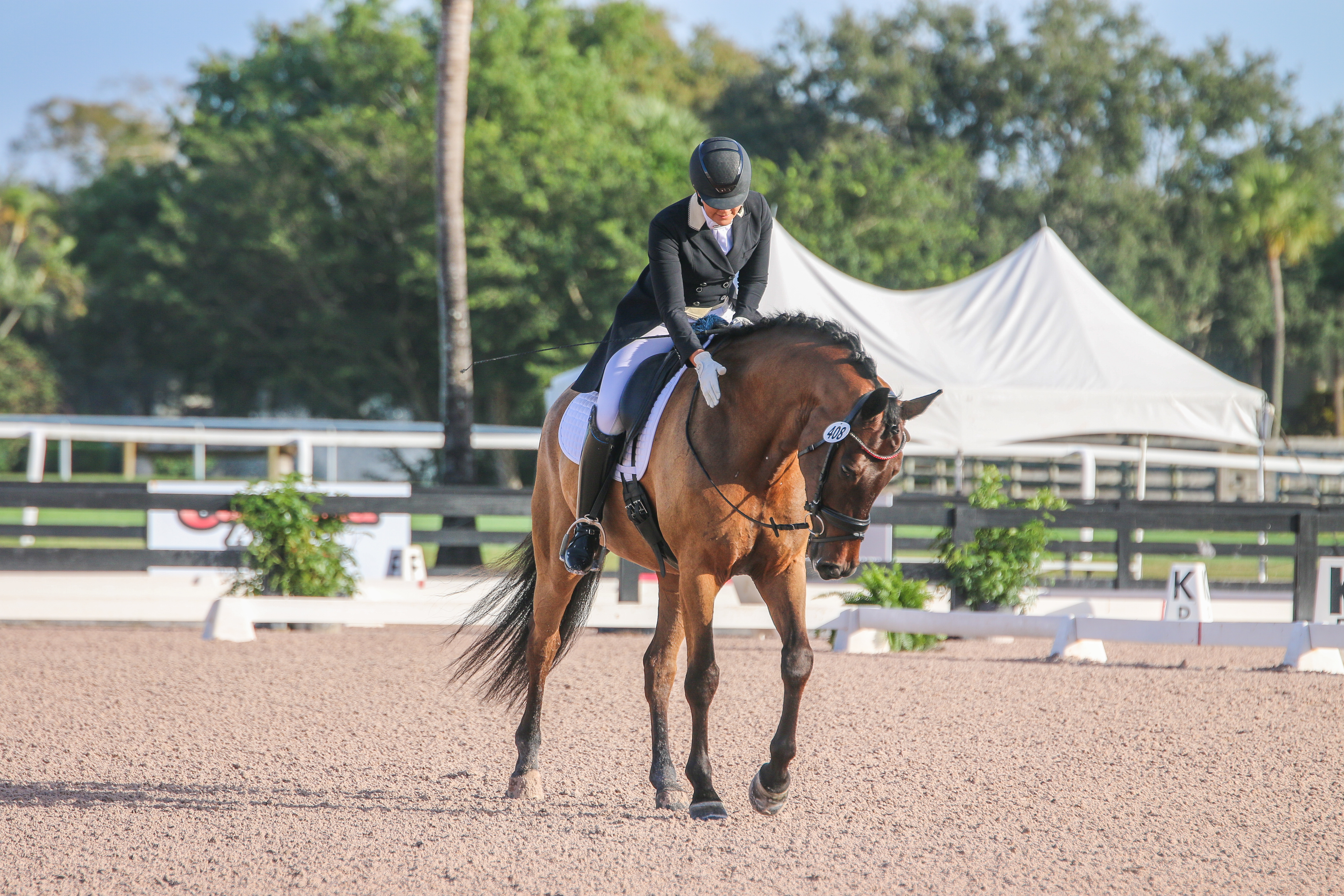 Photo courtesy of ESP
Thank you, Sarah! We wish you the best of luck at AGDF 2020.