U-25 rider Molly Paris already has many notable achievements under her belt at the age of 20. A native of Charlotte, North Carolina, Molly spends her winters in Wellington, training with Christopher Hickey. At AGDF, Paris can be seen in the competition arena piloting her  10-year-old Westphalian, Diamante Sky, and her 14-year-old  Danish Warmblood, Countess.
Follow along below and learn more about what Molly has been up to this summer, read about her groovy freestyle music, and discover what her goals for the 2018 AGDF season include! 

What did this past summer look like for you and Countess?
Molly: Tess had a summer full of surprises for me. Once we got home from winter in Wellington, we prepared for the U-25 Festival of Champions in New Jersey. We were first in the I-1, third in the U-25 GP, second in the Freestyle and third overall.
In June we did our first Open Grand Prix in a national show, which only lead to Chris [Hickey] pushing me to do Open Grand Prix in the CDI at Tryon in August. Boy am I glad we did! We were second in the Grand Prix and somehow won the Freestyle with the same freestyle that I use for U-25. I never thought that would happen at my first CDI at Grand Prix.
We then headed up to Dressage at Devon. This was my first time going to Devon and it was as magical as I've heard it can be. We again did the Open Grand Prix. There were a few mistakes in both tests but somehow manage to pull off a 5th place in the Grand Prix and 4th place in the Freestyle, right behind seasoned competitors such as Brittany Fraser, Jackie Brooks, PJ Rizvi and Diane Creech. This mare has exceeded all my expectations of her.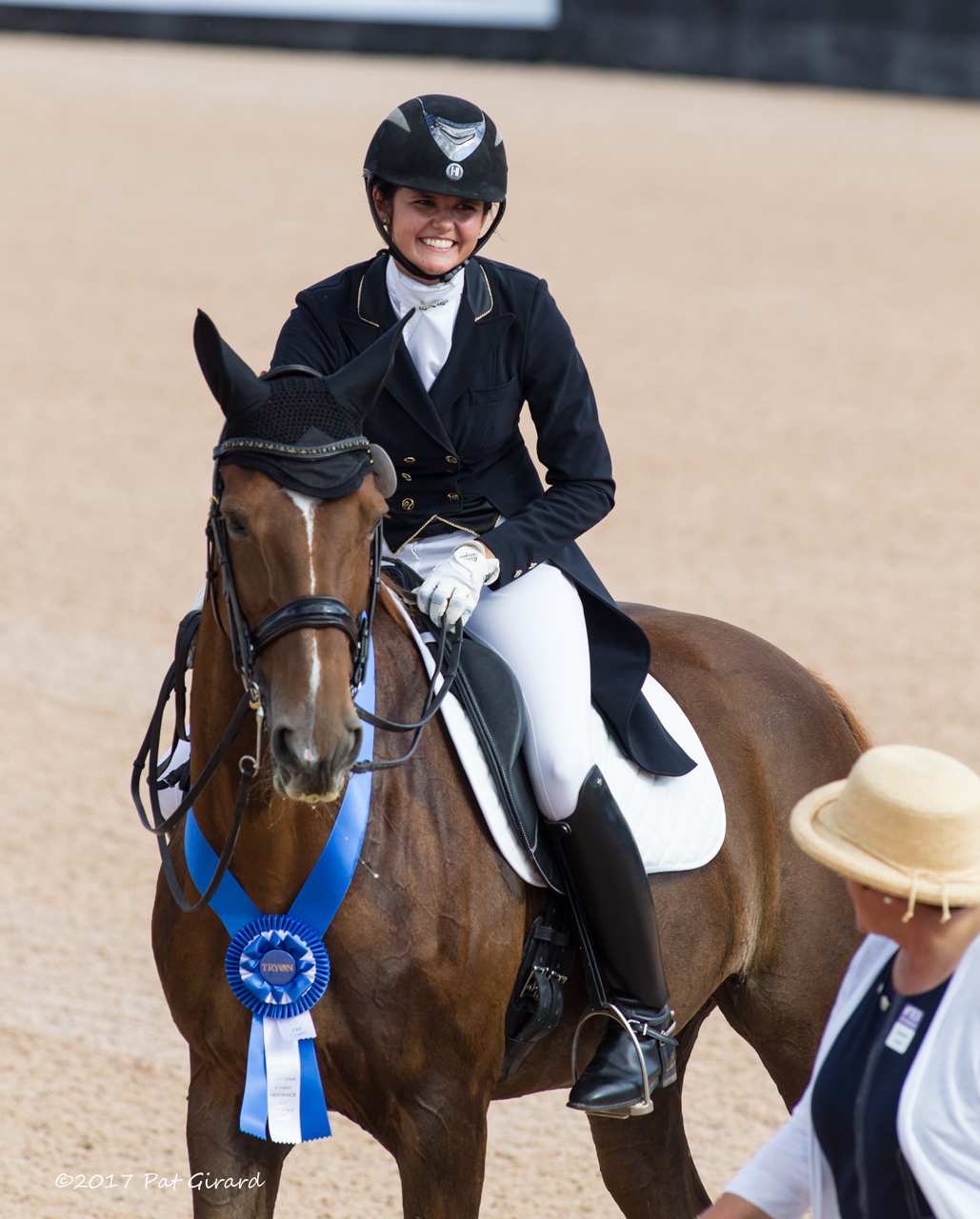 Can you give us some insight as to what your relationship with Countess is like?
Molly: I honestly never thought I would own a mare, I've always thought I was a gelding person. Tess has changed my mind on that. She is sort of a funny horse to get to know. She was really stand-offish when I first got her and she is with any new people. I always joke that you have to earn her affection, but you really do. Once she gets to know you she can be the most snuggle-able horse.
Every time I go to clean her stall she will face directly at me and demand scratches. I think that my gelding's outgoing, nosey personality has rubbed off on her.  She also has her red-headed mare moments of being a little snarky, but sugar and spice make everything nice. Anyone who knows Tess and I, know how happy she makes me.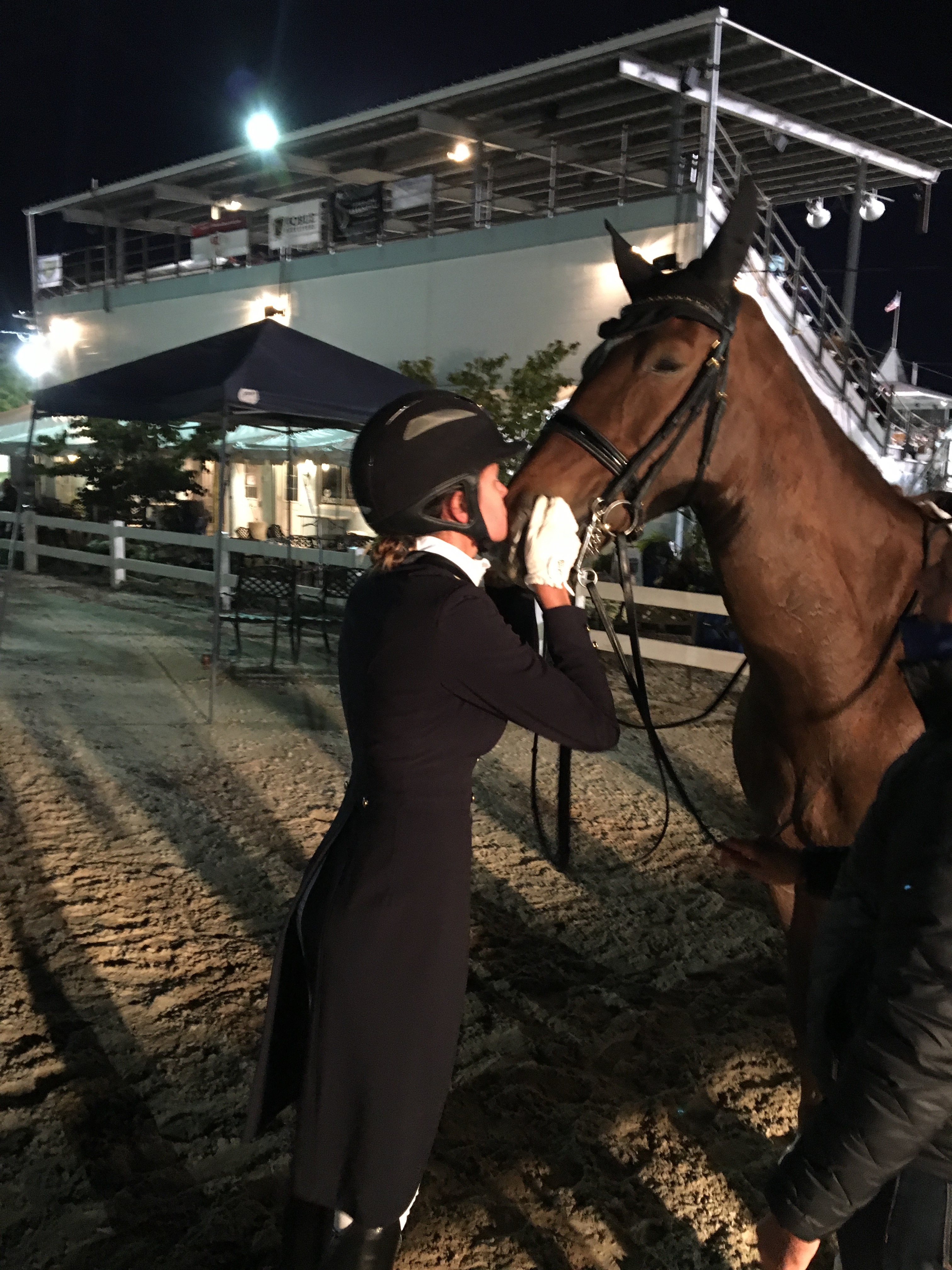 What are your goals for the AGDF 2018 season and beyond?
Molly: This year for AGDF I will be doing a lot of the same with both horses. Tess will continue to compete at CDI in the U-25 and we may dabble in some national Grand Prix. We plan to really focus on our weak parts and improve our scores. The same will go for my gelding, Sky. We will return to the show ring for the small tour and work on his maturity (that's a bit if a joke, he's forever 4 years old!) and work towards improving our scores.
What are some of the most valuable lessons that your coach, Chris Hickey, has taught you thus far?
Molly: I am so lucky to have such and open and honest relationship with Chris. I can talk to him about anything, whether it be my horses, personal struggles or just ridiculous banter between us. People often ask if I learn anything in my lessons because Chris and I are often just messing with each other and mostly just laughing and bickering for 45 minutes.
I have to say one of the biggest thing he has taught me is to find the humor in it all. Find the humor in the mistakes your horses make, whether it be from trying to hard or not trying enough. Find the humor in the mistakes you make, whether you can't count your tempis correctly, which I did have a problem with, to when your aide isn't quite right and it ends in minor confusion. We all make mistakes, even him!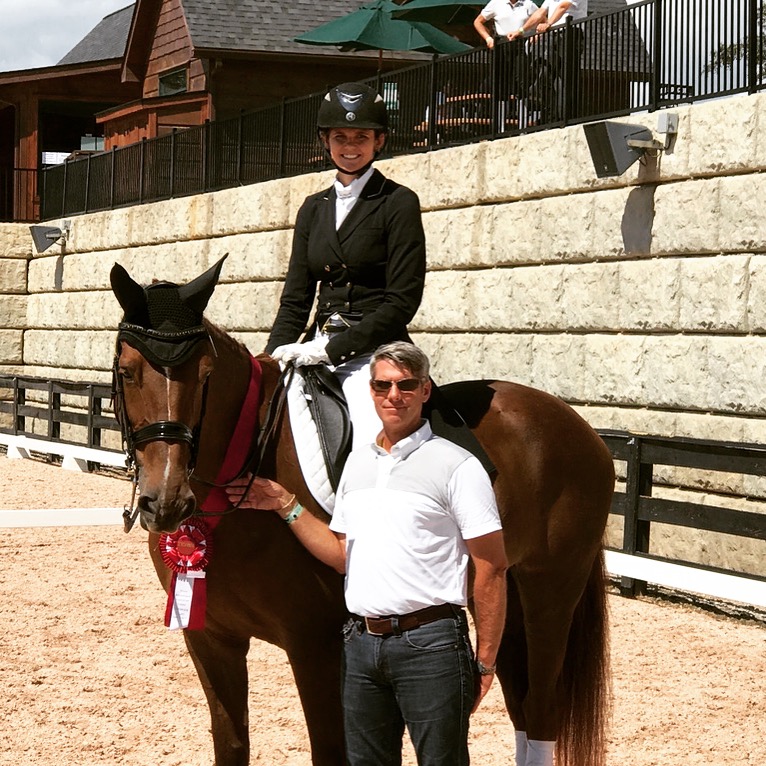 You ride to some great freestyle music. Can you tell us what inspired it, and what you think your horse's favorite part of the choreography is?
Molly: I get really sick of listening to the regular pop/rock stations and hearing the same 12 songs. So, every now and then I turn to the alternative rock station, and that is where I found our music, 'Move' by Saint Motel. I always enjoy making freestyle and I enjoy making them different. This one I really set in the hands of Gary Patterson. I told him a few of the things I wanted and things that Tess and I could do really well. He got to work on it right away and in a few short weeks, I had this incredible freestyle that I absolutely loved the moment I heard it.
Tess does, what I call the "party tricks" really well- the piaffe, passage and pirouettes. I really think this freestyle showcases her talent for all of those. I am so lucky to have a horse who thinks of piaffe and passage as just another gait and is not stressful for her at all.
The pants! Can you tell us about the famous pants that we always see you in?
Molly: I still am not really sure how the pants became such a thing. I wore them a few times as show clothes cover ups and received a lot of "I love your pants" and several jokes about them too. They are really just a conversation starter, but are also the most comfortable things ever. They are red, white and blue, big and baggy with big pockets. I wear them around the house more times then I should probably divulge.
What are some challenges of being a young rider?
Molly: Being a young rider is sort of like a rite of passage. You will learn all the lessons, easy or hard. You will have really good rides and really bad rides. You learn how humbling horse are and that they owe nothing to us, yet give so much. It's all just a learning process. Yes, it is challenging and often times emotionally, mentally and physically draining, but that is where you learn your love for the sport and the horse.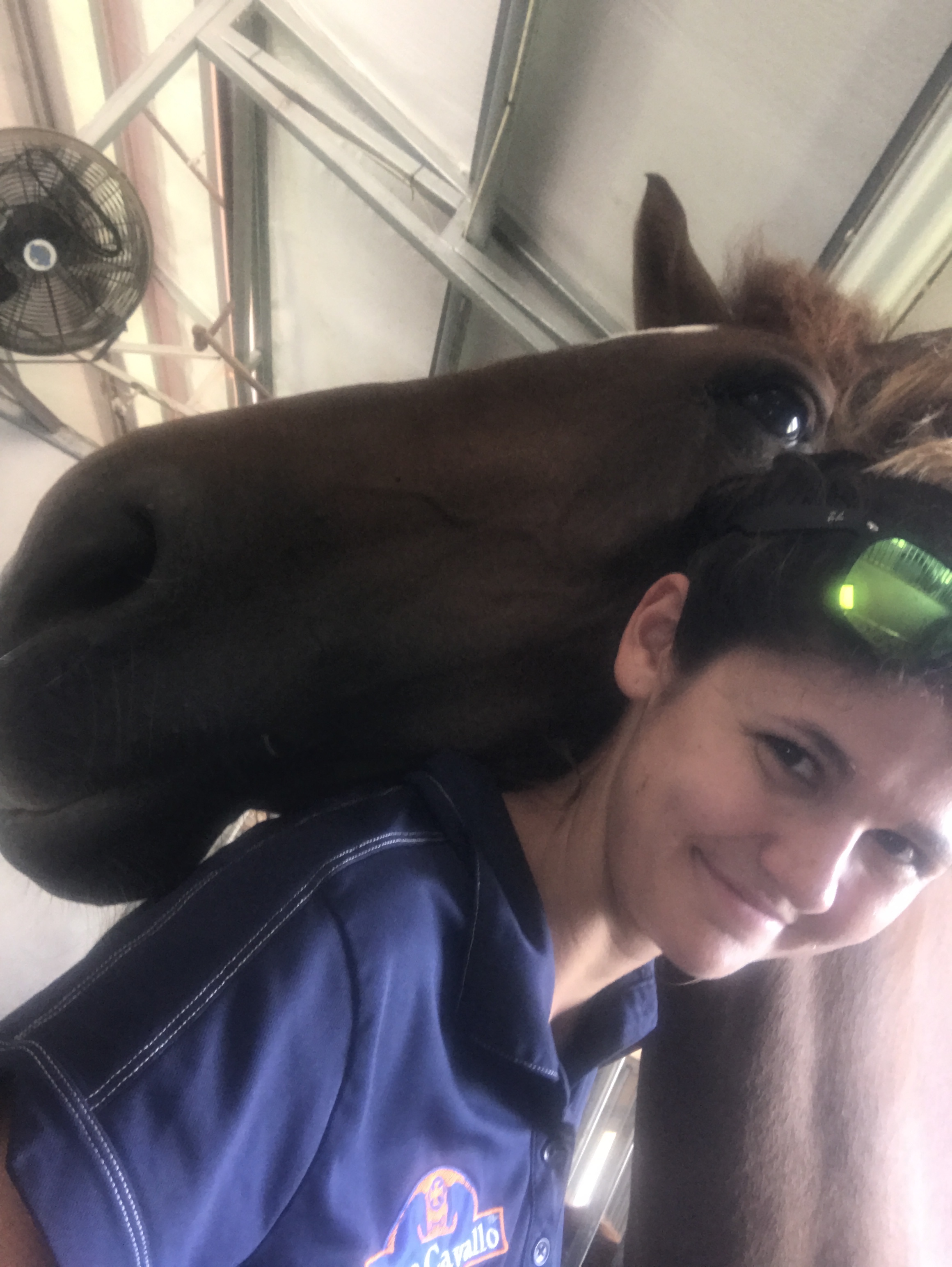 What are some of your favorite aspects of the U-25 arena?
Molly: My favorite part of U-25 competitions is that there is group of young people who all are competing against each other, yet so supportive of each other because we are all chasing the same dreams.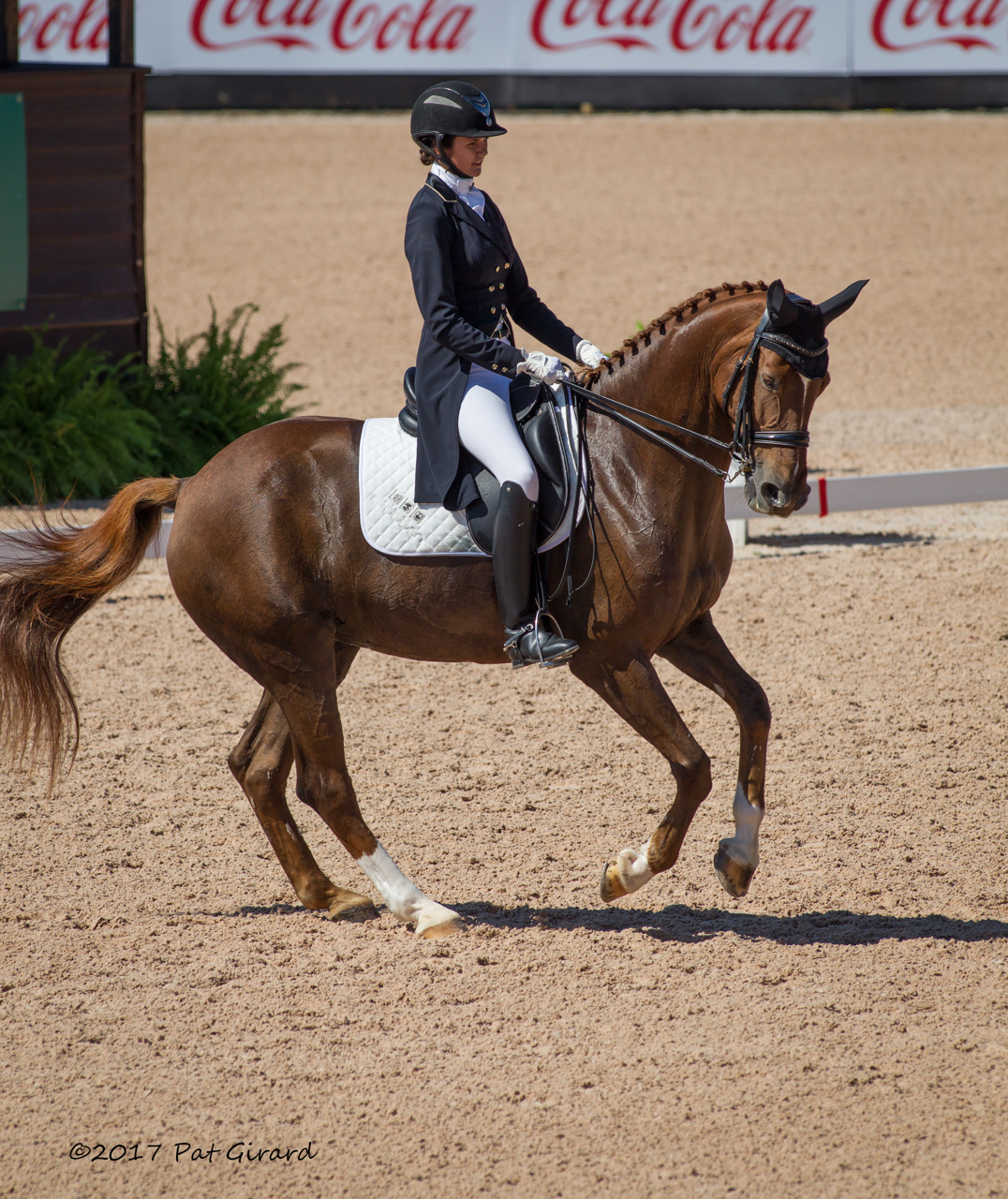 Photos courtesy of Molly Paris.