This week's featured rider is Amanda Perkowski! Amanda started riding as a child in a small town in New Jersey and immediately fell in love with the animals and the sport. The extremely talented dressage rider has worked hard to achieve her goals over the years and has learned from some of the best in the business, such as Olympic bronze medalist Allison Brock. Now, Amanda rides for Helgstrand Dressage USA here in Wellington. Continue reading to learn more about Amanda's riding journey, her plans for 2023, and her upcoming horse, Sonata MF!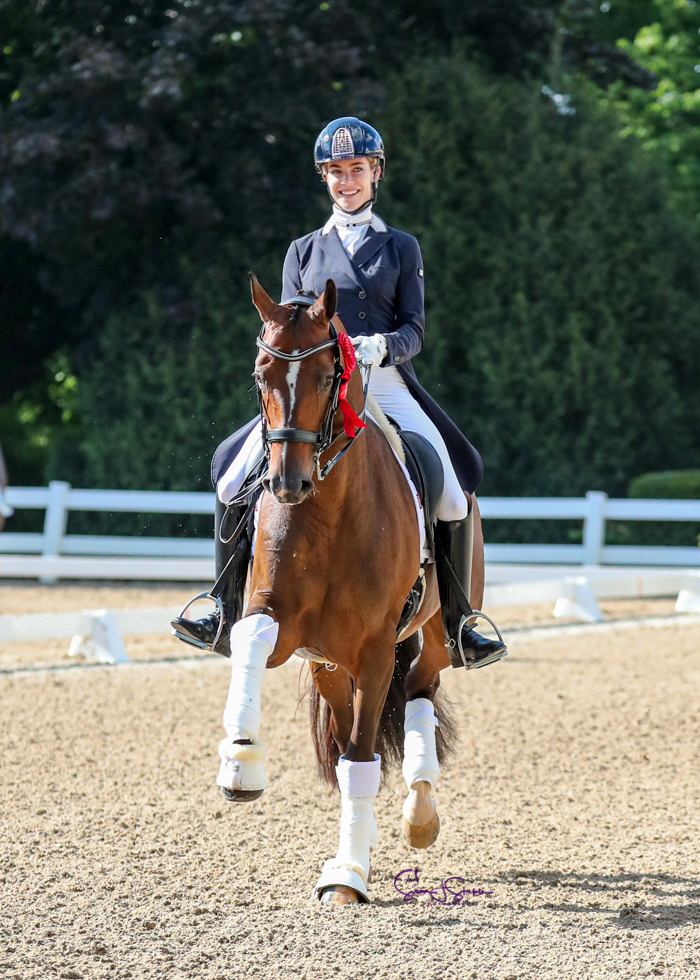 Tell me about your riding journey so far!

 
When I was seven years old, I got lessons for my birthday at a local Dressage barn in New Jersey, which transitioned into becoming a working student. After quite a few years of working there, I took a different working student job which led me to my first summer in Wellington in 2016. I got in contact with Lendon Gray and signed up for the Winter Intensive Training Program (WIT) in 2018. During WIT, I broke my pelvis and was unable to ride for the majority of the season. Still, I learned so much from being on the ground, observing lessons, and being a part of the various educational portions of the program. Once I recovered, I was lucky enough to receive a Grand Prix horse to lease from the Dressage4Kids Program (D4K) and this is how I was fortunate enough to meet my long-term sponsor, Harold Denton who owns Season's Four Farm LLC and Sonata MF. Following this in 2019, I had the opportunity to work for and train with Allison Brock for six months in Wellington. At this time, Harold offered to sponsor me on a quality young horse and he took me to Helgstrand Dressage USA. While I was trying horses, Dr. Ulf Möller said that I seemed like a capable rider and asked me if I wanted to ride for Helgstrand. Of course, I jumped at the opportunity and spent just under six months in Denmark riding. I gained so much experience riding many different ages and types of horses and just being in the ring with so many amazing riders. In December of 2019, they sent me back to Wellington to ride for Helgstrand USA, and I've been there ever since!
 
Do you have any pre-show rituals or lucky charms?
When I was in Denmark, my dad passed away. I have a little charm with some of his ashes in it, so I always have that in my coat pocket when I show.
 
Who is your biggest idol?
Although I have many, one of my biggest idols is Allison Brock. I met her during my time in the WIT program, and after working for her the following season and then ultimately returning from Denmark, she has helped me through the training process with many horses through the years. I want to emulate the honesty and genuineness that she carries when working with horses and people. I'm really grateful that she's able to be my trainer with Sonata.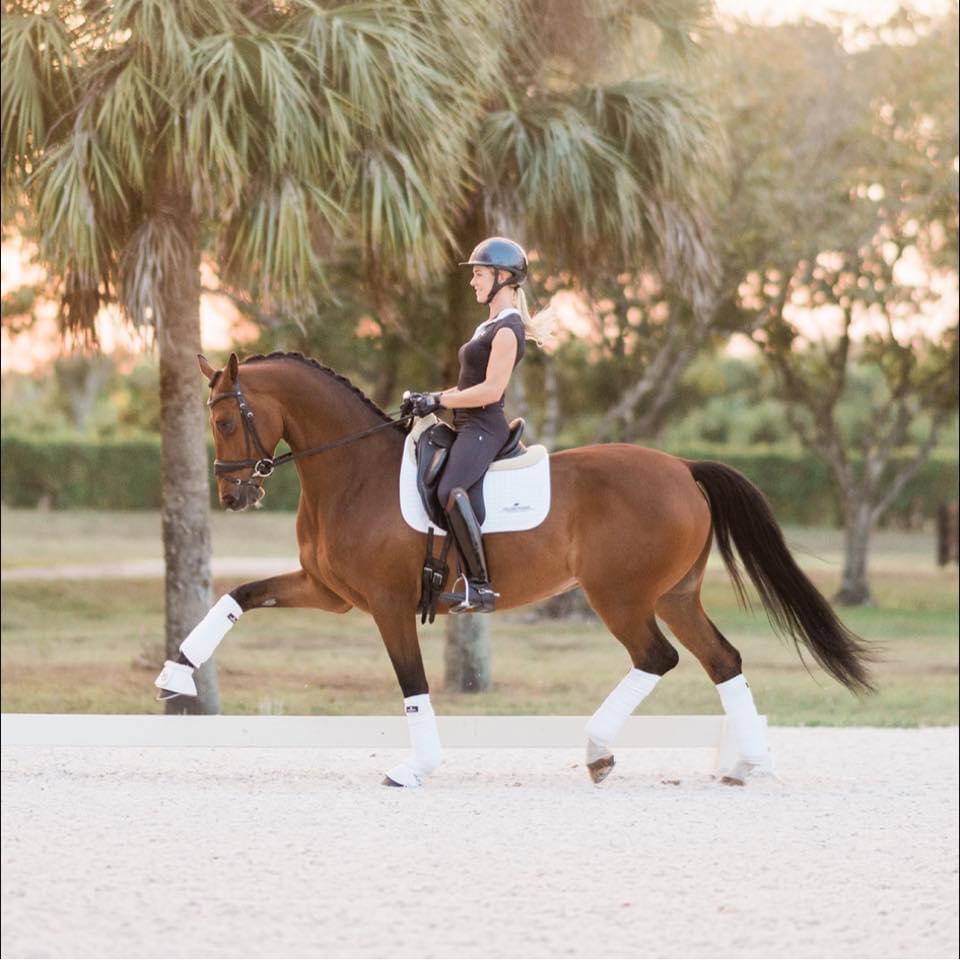 What are your 2023 plans and goals?
My plans for the 2023 season are to compete with Sonata MF, who's owned by Season's Four Farm LLC. Our plan is to compete in the small tour classes in CDIs this season. We are striving to qualify for the 2023 Pan American Games, Festival of Champions, and other potential opportunities. I also have a coming four-year-old gelding that I would like to compete in the four-year-old classes with, a seven-year-old gelding, Backstage, and an eight-year-old gelding, Belafonte, also owned by Season's Four Farm LLC. I hope to compete Backstage in the seven-year-old classes and Belafonte in the Intermediare II or U25. I think it will be a super fun year with some good horses to show!
 
What are your long-term goals?
I want to eventually have a business providing quality horses for sale and help people find the right horse. I also want to have an all-encompassing business where I'm able to train, sell and teach. A long-term dream of mine is to have a unique working student program that would be incorporated into a sale program. I would focus on young riders and young professionals who can learn to ride through the sale program in a way where they can learn all aspects of the business. As for my personal goals, I would love to make the [U.S.] team one day, compete internationally, and produce multiple Grand Prix horses.
 
Tell me about your upcoming mare, Sonata MF!
Sonata came to me at the end of her sixth year in the Fall, and I've had her for just over a year. She is, for me, the entire package of a horse. She has the brain, willingness, and the athleticism to be able to do it. She is seven and coming eight right now, and she's basically schooling the Grand Prix, besides the one tempi's, which we are just starting. I'm really fortunate that Harold believed in our partnership enough to purchase her through Season's Four Farm LLC this year because it allows me to have her long-term and try to go as far as I can with her. I think the sky is the limit with her. Primarily just based on her character. She's a mare who really wants to do it. We have created such a bond over the last year, and she's very special. 
What are you most looking forward to this season?
I'm excited to ride a freestyle in the International Ring during the winter season! That'll be so much fun with Sonata. I think she's going to get really into it, and we have a super cool freestyle in progress. I'm also excited to just have a consistent CDI season. It'll be nice to show a lot and get into a rhythm.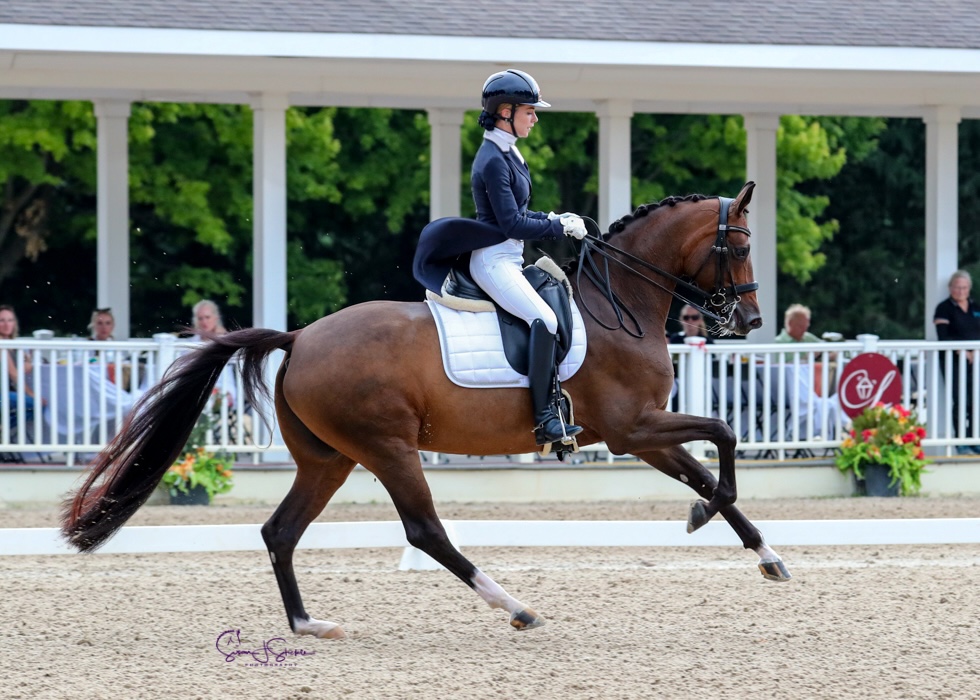 What is your favorite thing to do in your spare time when you have it?
I like to go to the gym and read, but one of the main things I've valued in my life so far is that I have really, really wonderful friends. I have a lot of friends that share the same passions as me, and any time I get to spend with them is so rejuvenating, energy-wise. So, I really cherish the fact that I have really genuine friendships, and getting to spend quality time with them when I have time is amazing.  
Thank you so much, Amanda, for being this week's rider spotlight. We wish you the best of luck this season!